Facebook and Instagram ads are a great way to advertise your products or services. They allow you to reach a large number of people who are on the social media app in one place. If you don't have a lot of money to spend, Facebook and Instagram ads are a cheap alternative.
Facebook and Instagram ads are also more targeted than TV or radio commercials. You can choose your target audience by specific demographics, behavior, interests, location, etc. Facebook and Instagram ads also provide more detailed reporting than other advertising channels like TV or radio commercials for those who need to know where their ad is performing well.
1. What is Facebook Ads Manager?
Facebook Ads Manager is a platform that allows companies to design, target, and measure the performance of their Facebook ads. The ad manager has tools for creating ads, managing targeting, measuring performance, and optimizing.
It is a free service that takes no more than ten minutes to create an ad with this tool. Companies can use it for advertising on Facebook as well as Instagram or Audience Network (i.e., the wider Facebook ecosystem). It provides the most sophisticated set of targeting options available on any social media platform today.
2. Understanding the Types of Bidding Strategies Available on Facebook Ads Manager
Facebook Ads Manager provides an easy way to experiment with different bidding strategies. It allows you to test out different strategies at the same time, so you can see which strategy works best for your business.
Facebook Ads Manager has a variety of campaign types and bidding options, which allow you to manage your budget and success better. With this, you can use custom audiences from a third-party list or retargeting audience; such as Google Analytics. You can also create an audience from people visiting your website who haven't converted yet.
On the other hand, Facebook Ads Manager is not an easy platform for those that never worked on online advertising campaigns. For this reason, if you are a beginner but want to try to promote your content on social networks, this is the right guide for you.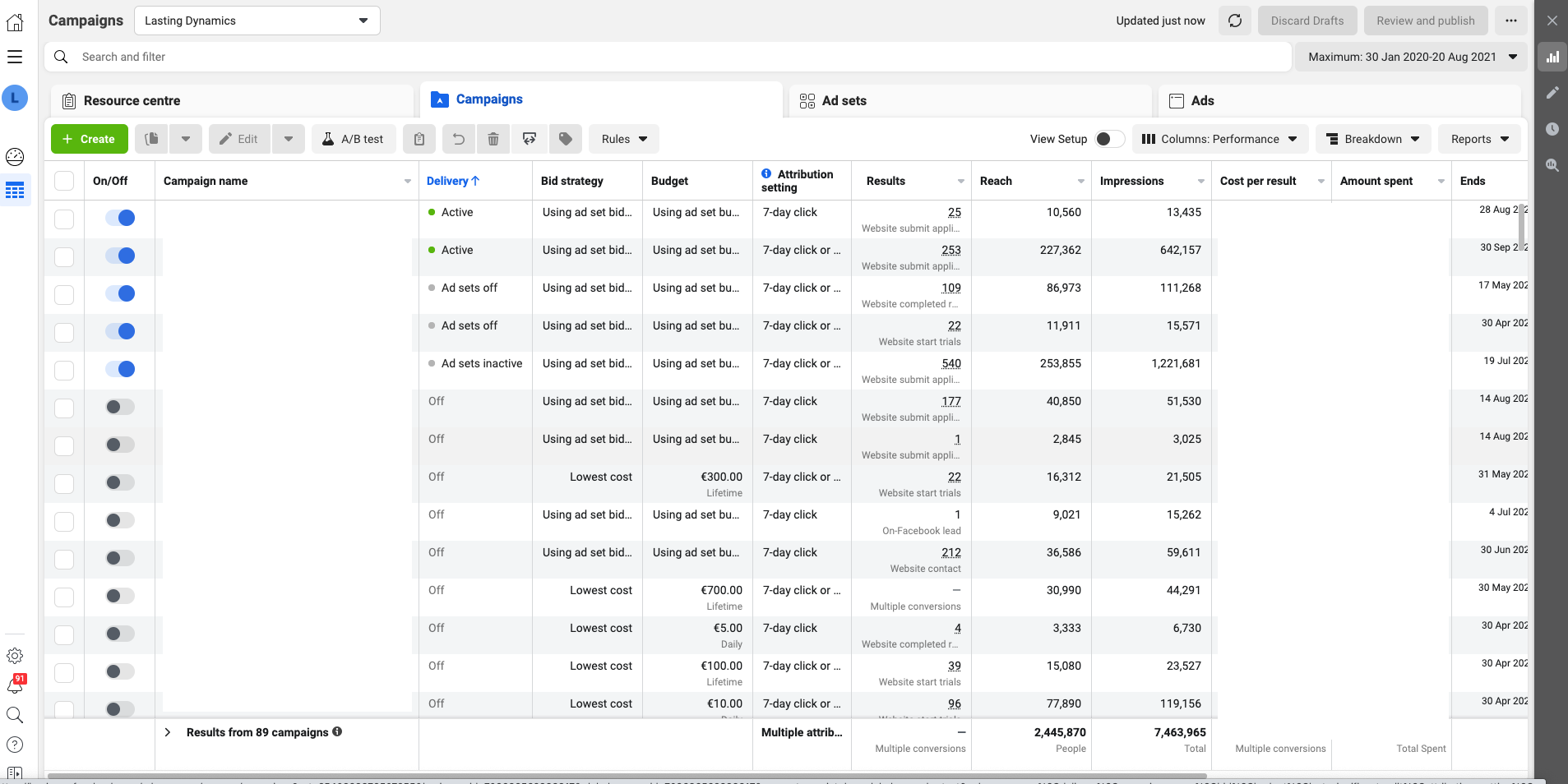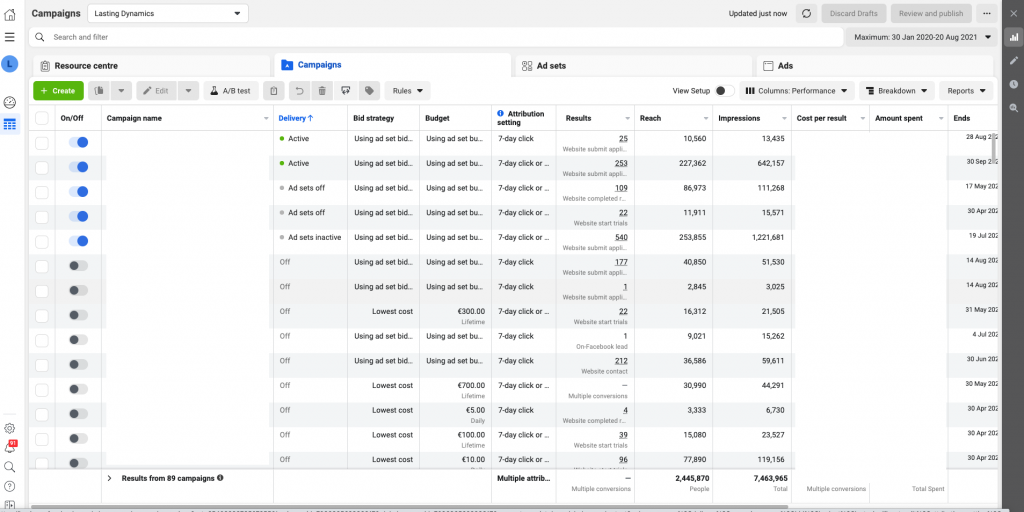 3. Where to start before running Facebook campaigns:
Before launching a campaign on Facebook and Instagram, it's better to first prepare the ground, to make your ads successful. There are several things to study and prepare before starting and in detail:
3.1. Determine your target audience on Facebook
Facebook is a social media platform that offers an opportunity for brands to reach out to a vast audience.
The only question you should be asking yourself is who will be your target audience on Facebook? Businesses use Facebook to connect with their current consumers, but they also try to go viral and reach as many potential customers as possible.
There are many different ways to target audiences on Facebook. You can target people by age, gender, location, interests, and so forth. But you must first know who your audience is and what they want.
Choosing the right audience for your Facebook campaign will make a big difference in how successful it will be. It's important to understand the differences between different types of targeting options and which one might be best for your campaign before you get started.
If you cannot run an analysis of this kind, try to focus on some of your loyal customers and draw their profile starting from age, gender, and as many details you can have about their interests and behaviors.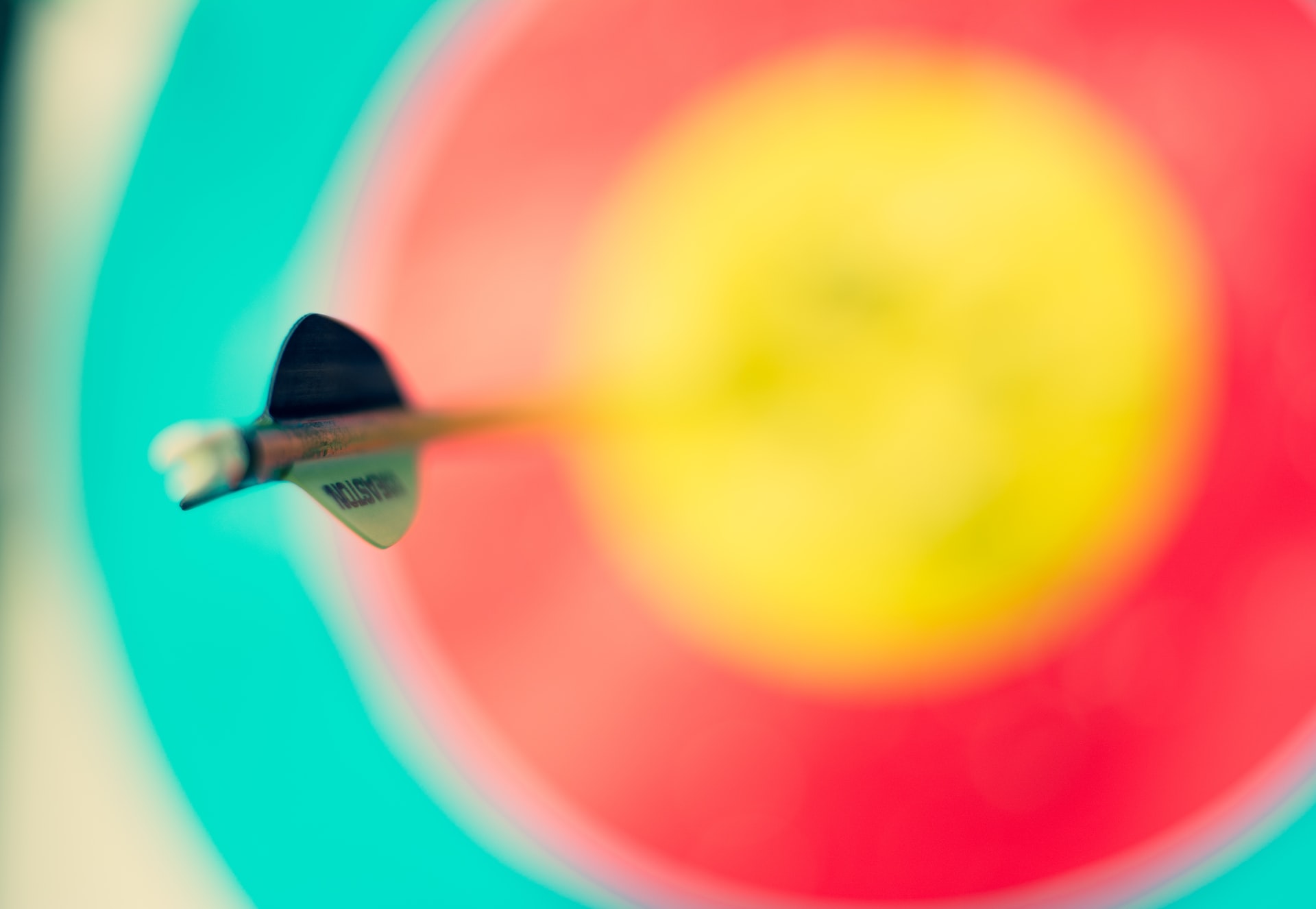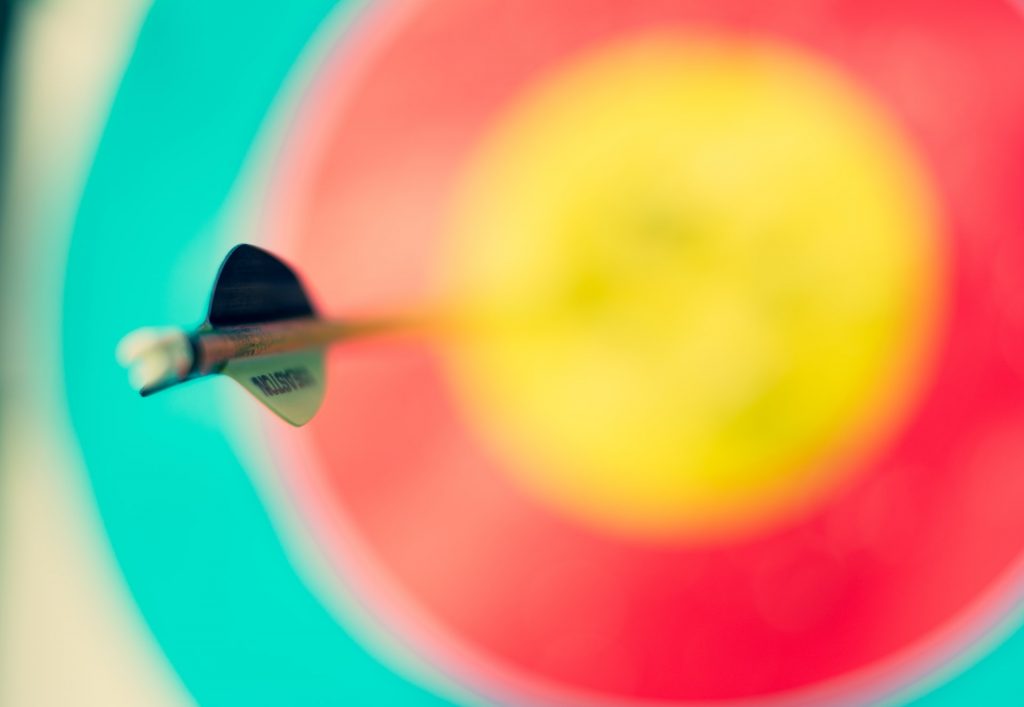 3.2. Research your competitors' ads and see what they're doing well
One way to research what your competitors are doing is to look at their ads and see what they're doing.
Another way to do it is by looking at the kind of content that's popular in that industry. For example, if you're in the beauty industry, then you might want to take a look at what people are talking about on Reddit as well as social media pages such as Facebook groups that belong to people with similar interests.
3.3. Chose the right creatives to boost
Select an image that will capture attention, be consistent with your brand, and convey your message clearly to engage viewers with the right message in the shortest amount of time possible.
This is a very difficult and important task because creatives are what take users' attention and for this reason, you must try different creatives to find the best and do this practice for all Facebook campaigns you will run.
There is a tool released by Facebook that can help you to better accomplish both points 3.2 and 3.3: the Facebook Ads Library. Basically, this platform allows you to search and find all creatives promoted by a Facebook Page that is great because you can spy on your competitors, see what kind of messages they are trying to convey. Here's the link: Facebook Ads Library.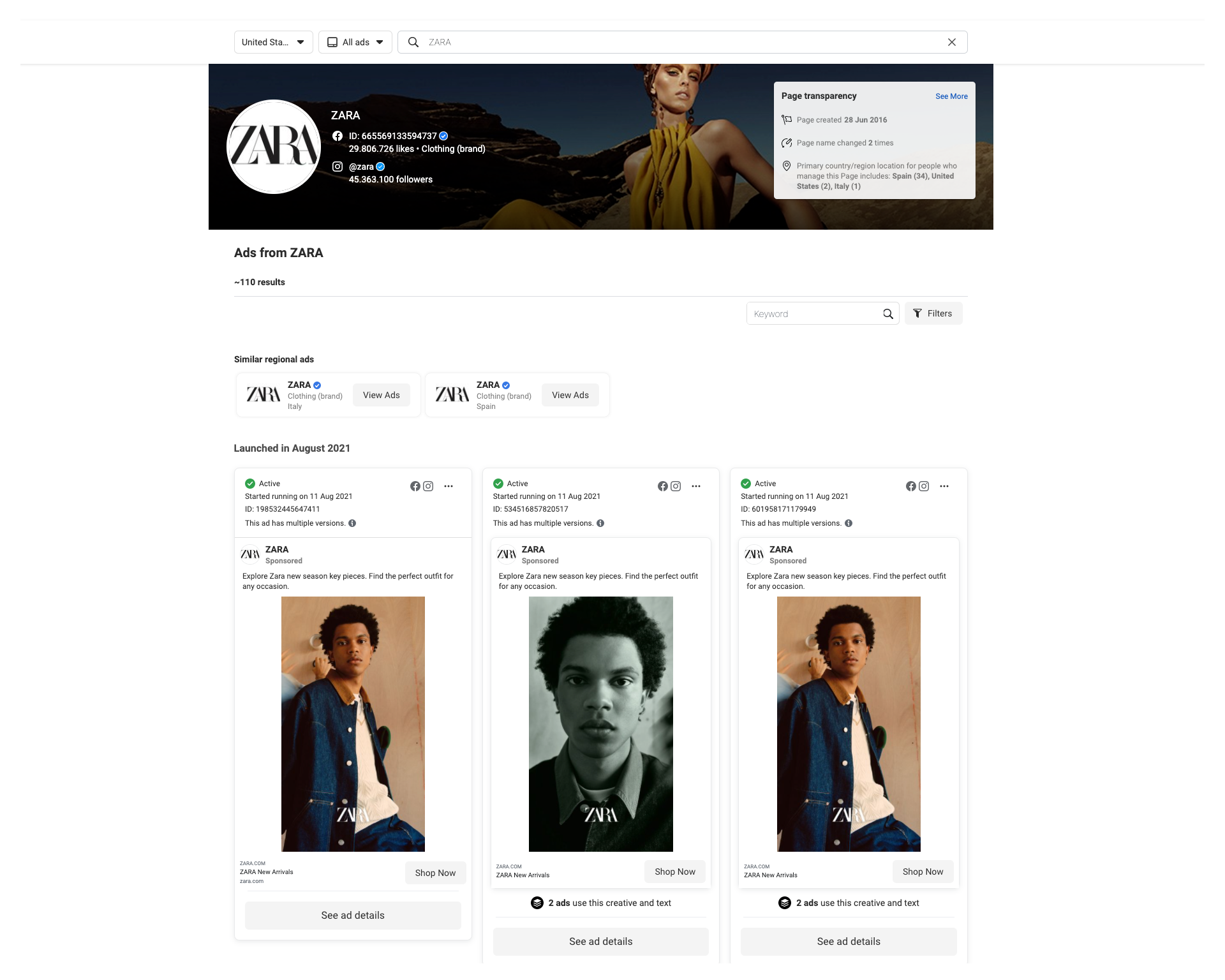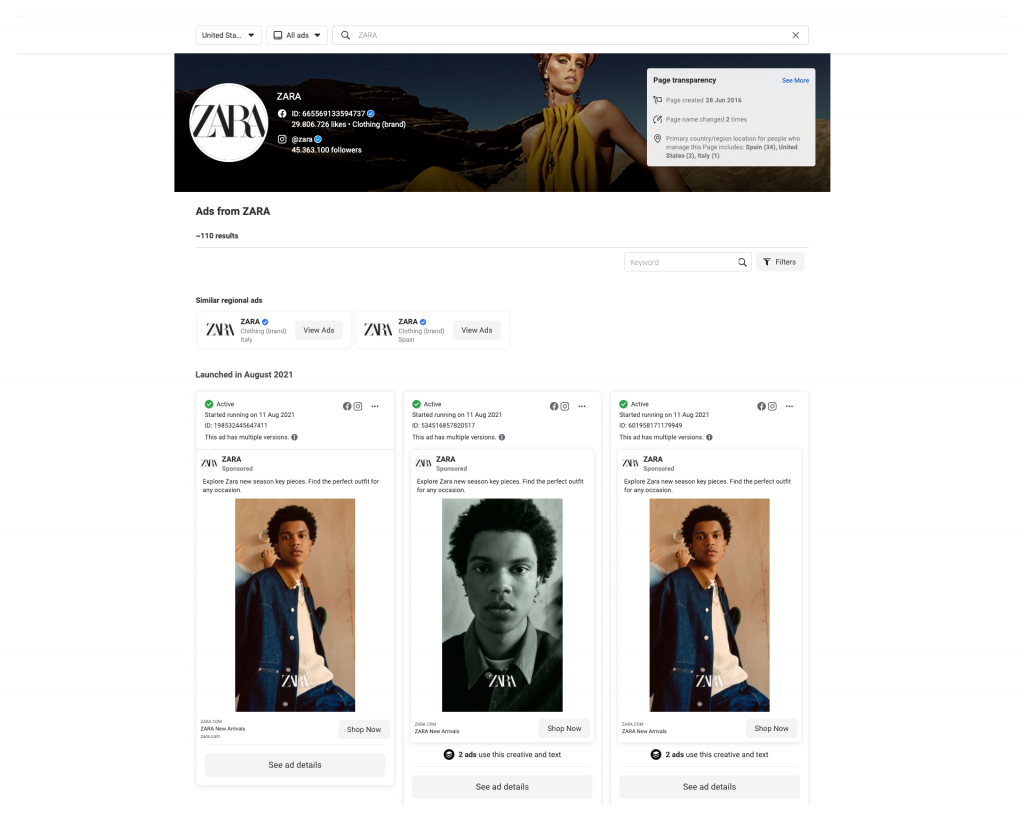 4. How to launch Facebook campaigns without using Ads Manager
If you are looking to promote a Facebook or Instagram post, you don't need to use Facebook Ads Manager. Other methods can help you promote your posts.
The simplest way is to tag a friend from your post. This will help it reach more of your followers who might not have seen it yet and hopefully prompt them to like and share the content with their friends too. Other options include posting on public groups or pages to widen the audience who sees the post, or adding hashtags at the end of the caption so that people who are not connected with you can find it through those hashtags.
If you, on the other hand, are looking for an easier way to promote Facebook posts spending a certain budget, yes, there is a way a lot easier you can try and we will explain it below.
5. How to promote your published posts on Facebook Page
I'm sure you looked at that button so many times and so many times you were afraid to proceed because you are not an expert and the possibilities to fail are behind the corner. Yes, I'm talking about the "Boost Post" button: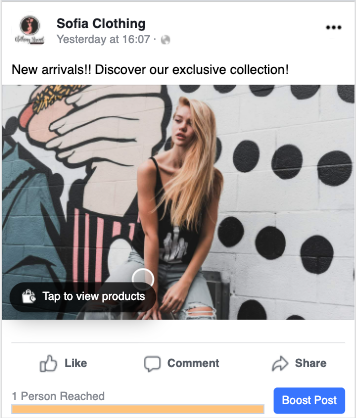 Yes, this is the easiest way to promote your post. On Instagram is the same but you must do it by your phone. We will talk about Instagram in the next guide but for now, let's focus on Facebook. Once you click on this button a new window will open: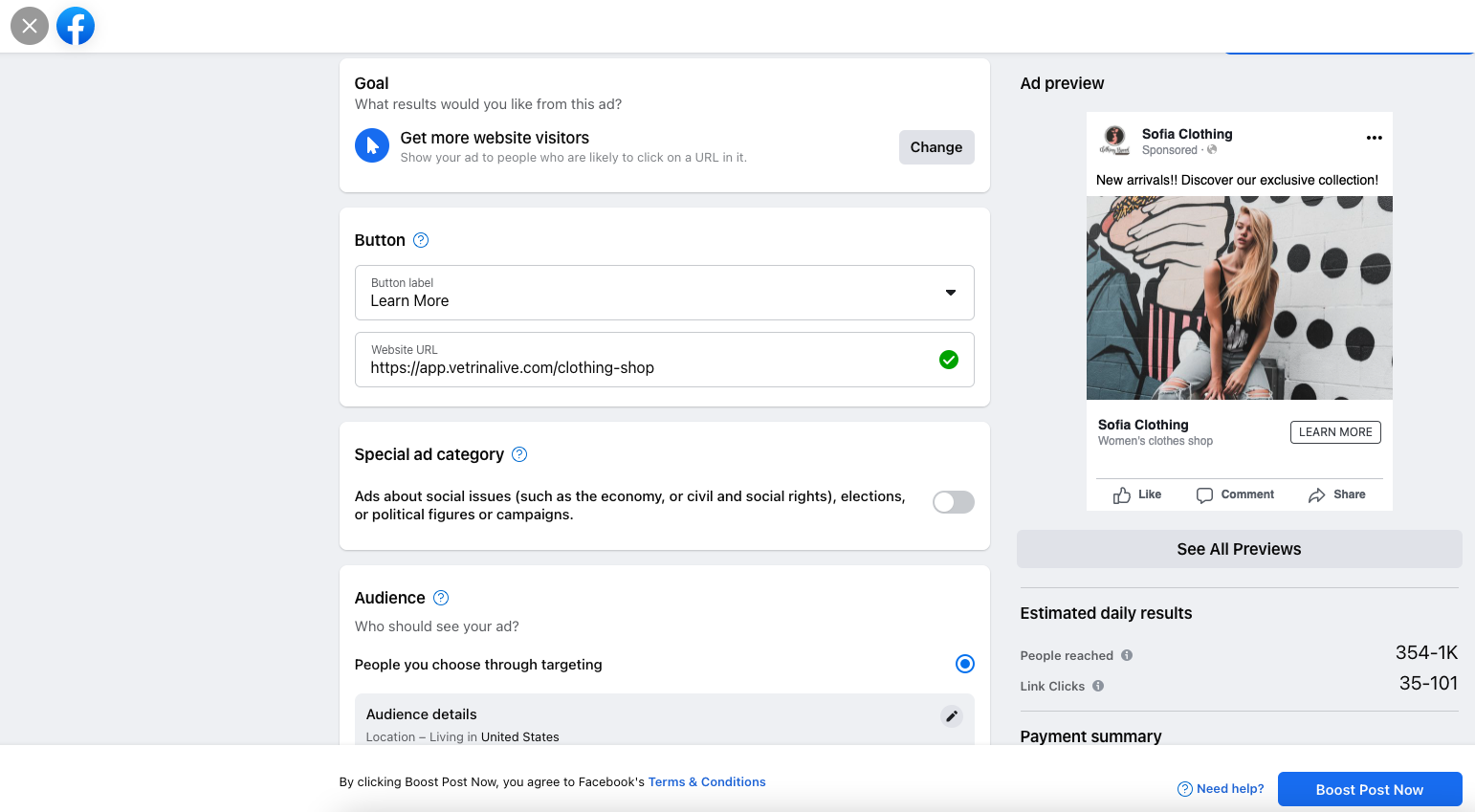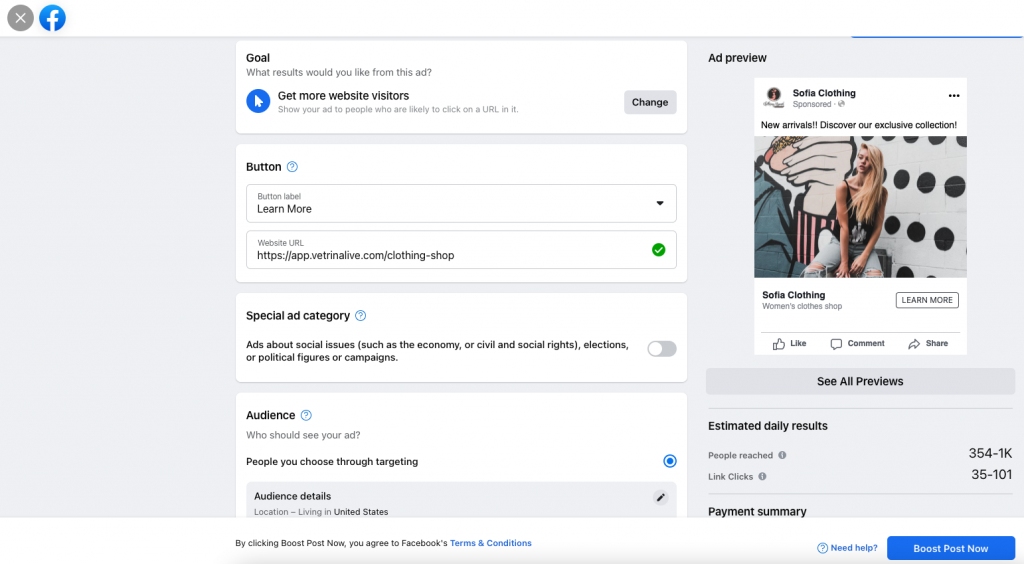 5.1. Goal
This is the objective of your campaign that you must choose carefully because Facebook automatically optimizes your campaign accordingly to it.
If you run an e-commerce business, there are many goals you can test, but maybe the most important would be to Get more website visitors. Choosing this objective, the campaign will be automatically optimized to find users that click on your ad and visit your eCommerce.
5.2. Button
If your goal is to get more website visitors, Learn More call to action is the most used one. Then you can add the URL where you want your visitors to land.
5.3. Audience
Here comes what we explained in the 3.1 paragraph and must be reflected in a specific audience on Facebook that is a good fit for your business.
Start defining demographics. How old is your usual customer? Where he lives? Is it a Man or a Woman? Select a range of age, gender, and location that can be for example your city or your region.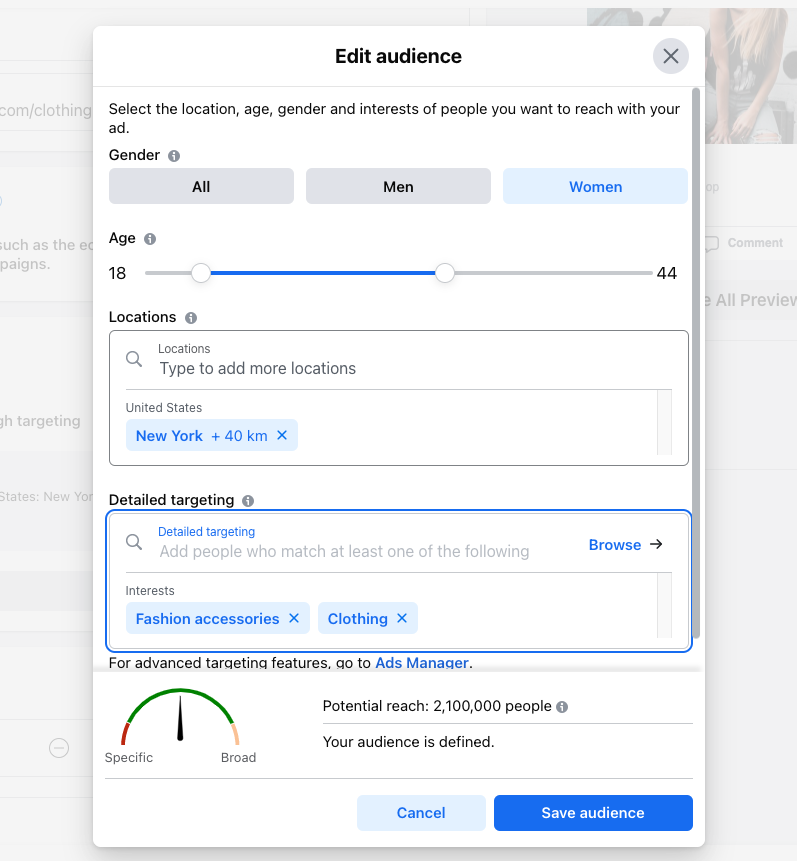 After that, you can narrow your audience more by specifying your customers' interests or specific behaviors. If you already did some researches or if you want just use category interests, try to write a word and see what Facebook recommends you to use as Detailed Targeting.
When you finish setting up your target, check the potential reach at the bottom of the dialog and make sure it is a good number. Generally speaking, consider that if you sell niche products, your reach should not be so wide. On the other hand, if you are selling consumer goods, your potential reach should not be too narrow.
5.4. Duration and Total Budget
Now we are in the planning phase and despite what I can tell you about basics, it's up to you to test different budgets and durations, obviously based also on the budget you allocated to online advertising.
The only thing we can recommend is to not run too short or too long campaigns. When you launch your campaign it should be first approved by Facebook and this process may require up to 24h. Moreover, campaigns require time to optimize the delivery, for this reason, if you run campaigns for 1 or 2 days it's easier to not get so many qualitative results. 7/10 days is maybe the minimum time your campaign should be on.
Budget is something less easy to advise: first of all, it depends on your availability and the second thing is that it should be related to the results a campaign is driving. For this reason, my advice is to start with a low budget, giving also a check to the right column so you have an estimation of what to expect, and then, if results start coming, increase it according to the ROAS.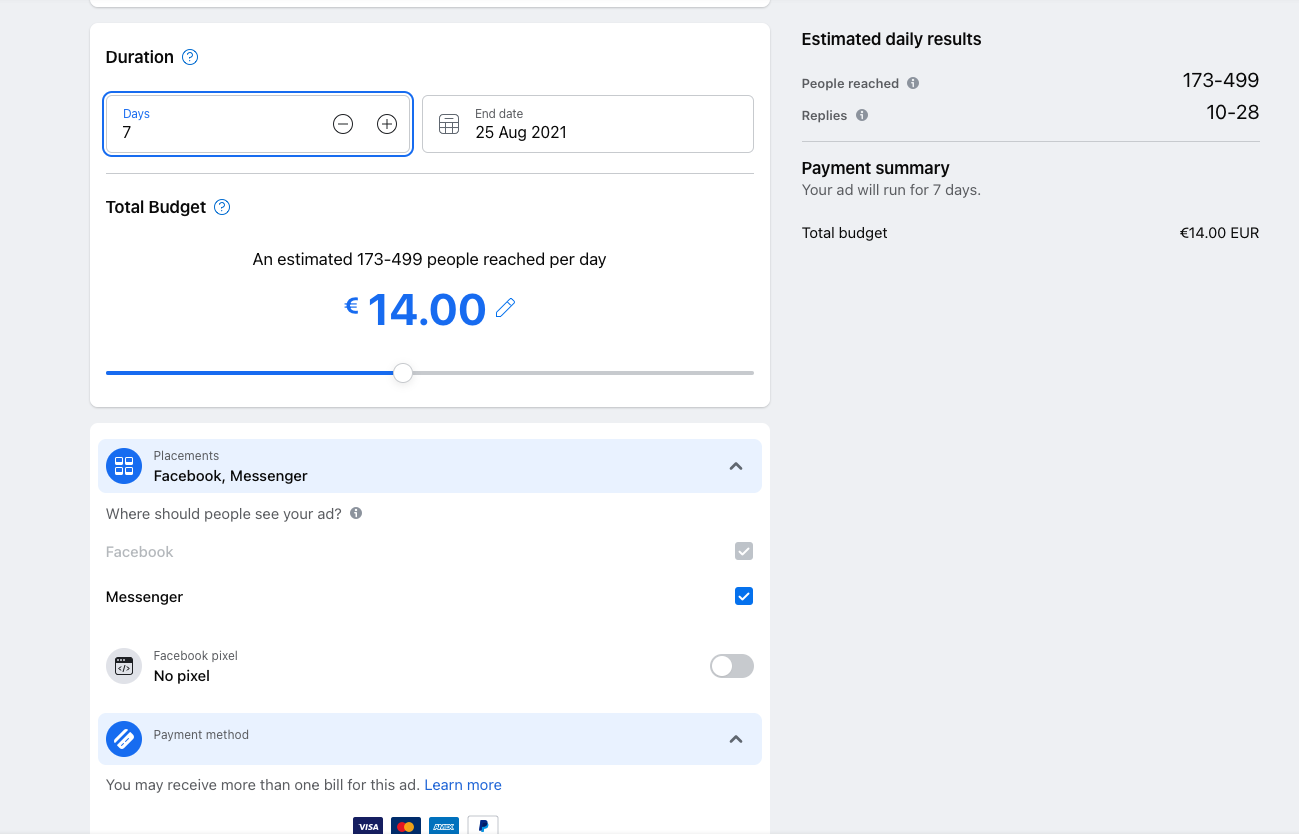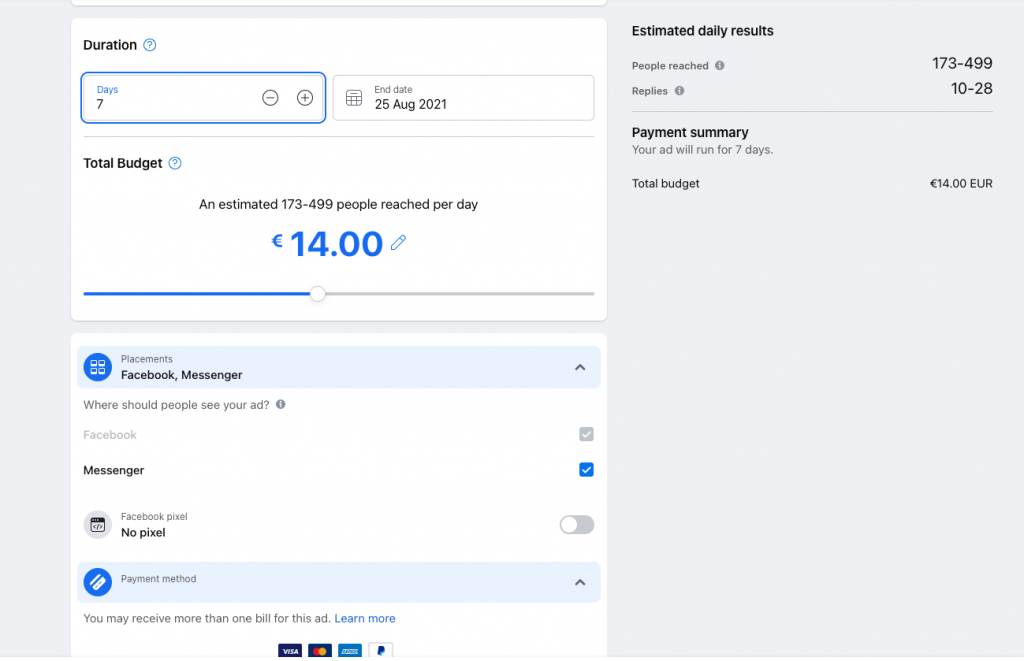 5.5 Add Payment Method
The last thing to do to be able to launch your campaign is to set up a valid payment method. Facebook allows you to pay in different ways, also based on your Country. In any case, you can choose what is best for you and proceed.
Your campaign is now ready to be launched and the most important thing is that you have a total budget set and defined duration. In this way, you will always spend only what you want and not 1 single penny more.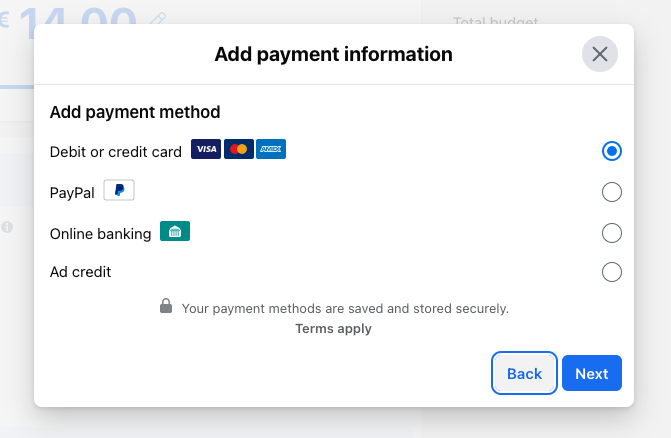 6. What to do during and after the campaign
Remember that in your vetrinalive shop, you can add your Google Analytics tracking code and, if you didn't do yet or don't have an account, it is free and we recommend you to do it.
Google Analytics is the best way to analyze the traffic on your website, offering you several ways to analyze the quality and quantity of your campaign.
If you don't want to use Google Analytics, during and after the campaign you'll be able to see performances on the post insight of Facebook and, at the same time, if your sales increase in the same period, you know what is the reason.
We recommend not change too many times your campaign details, since every time you edit something, the optimization phase starts again. On the other hand, if your campaign is not driving the willing results, you can try to optimize your target and budget and see if results change.
Even if this guide shows you how to launch a campaign in actually 5 minutes, it doesn't mean that money will come with the same speed. There's always work to do, above all analysis and optimization.
Other important things can totally change the results of your campaigns, for example, the implementation and setup of the Facebook Pixel.
This is only a starting point and we will soon publish also a dedicated article for the Facebook Pixel and an Advanced Guide for Ads Manager. In the meanwhile, if you didn't yet, read also How To Get Started on Instagram.